Σόρος: «ΑΝΘΡΩΠΟΘΥΣΙΑ» βάσει σχεδίου στην Ουκρανία
Όλα υπάρχουν, αλλά τα κανάλια σιωπούν…
Καθώς ο πόλεμος στην Ουκρανία μαίνεται, δεν υπάρχει αμφιβολία ότι το ανθρώπινο κόστος ήταν τεράστιο για την Ουκρανία, συμπεριλαμβανομένων των πιθανώς περισσότερων από 100.000 στρατιωτών που έχασαν την ζωή τους σε επιχειρήσεις μάχης .
Ωστόσο, όπως αναφέρουν εναλλακτικά μέσα ενημέρωσης στην Αμερική, υπήρχε κάποιος που προέβλεψε πολλά από αυτά που συνέβησαν στις συγκρούσεις στην ανατολική Ευρώπη και ειδικά την ανθρωποθυσία που λαμβάνει χώρα υπό τον τίτλο «ΜΕΧΡΙ ΤΟΝ ΤΕΛΕΥΤΑΙΟ ΟΥΚΡΑΝΟ»: ο Τζορτζ Σόρος.
Ο διεθνιστής δισεκατομμυριούχος ολιγάρχης χρηματοδότης, που συχνά απεικονίζεται ως ανθρωπιστής, προώθησε μια σκληρή γεωπολιτική στρατηγική στο άρθρο του το 1993 με τίτλο «Προς μια Νέα Παγκόσμια Τάξη: Το μέλλον του ΝΑΤΟ».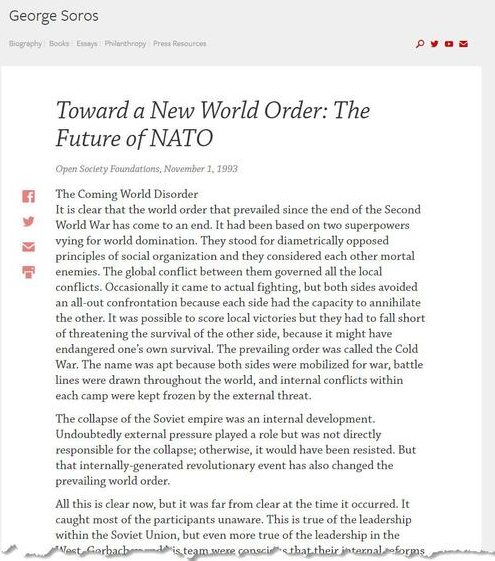 Στο άρθρο, περιγράφει πώς οι Ανατολικοευρωπαίοι θα μπορούσαν να χρησιμοποιηθούν ως «εργατικό δυναμικό» σε επερχόμενες συγκρούσεις σε μια προσπάθεια, όπως ισχυρίζεται, να μειωθεί ο αριθμός των θανάτων στις δυτικές χώρες, κάτι που ο Σόρος υποστηρίζει ότι η Δύση δεν θα ανεχόταν πολιτικά, σε αντίθεση με την ανατολική Ευρώπη.
Ο συνδυασμός ανθρώπινου δυναμικού από την Ανατολική Ευρώπη (σ.σ. ΜΕΧΡΙ ΤΟΝ ΤΕΛΕΥΤΑΙΟ ΟΥΚΡΑΝΟ) με τις τεχνικές δυνατότητες του ΝΑΤΟ θα ενίσχυε σημαντικά το στρατιωτικό δυναμικό της Σύμπραξης, διότι θα μείωνε τον κίνδυνο σάκων διακομιδής πτωμάτων (σ.σ. δηλαδή θυμάτων) για τις χώρες του ΝΑΤΟ, που είναι ο κύριος περιορισμός στην προθυμία τους για να πολεμήσουν. Αυτή είναι μια βιώσιμη εναλλακτική λύση στην διαφαινόμενη παγκόσμια διαταραχή», έγραψε ο Σόρος στο άρθρο.
Δείτε το παρακάτω συγκλονιστικό βίντεο που δεν χρήζει ιδιαίτερης περιγραφής! ΟΛΑ ΑΥΤΑ ΓΙΑ ΤΟ ΤΙΠΟΤΑ ή μάλλον για τα σχέδια των διεθνιστών να διαλύσουν Ευρώπη και Ρωσία:
When the real numbers slowly will be made public … people will be shocked … nobody will understand why a peace deal was not reached https://t.co/lKqNnGs3ki pic.twitter.com/UPsFY6ztii

— Lord Bebo (@MyLordBebo) December 28, 2022
Όπως σχολιάζουν εναλλακτικά μέσα ενημέρωσης στις ΗΠΑ:
Ο Σόρος αναγνωρίζει ότι οι χώρες του ΝΑΤΟ δεν έχουν όρεξη για «θύματα», αλλά η δήλωσή του υποδηλώνει σιωπηρά ότι οι Ανατολικοευρωπαίοι μπορούν να καλύψουν αυτόν τον ρόλο.
Αυτό που περιέγραψε ο Σόρος φαίνεται να εξελίσσεται στον πόλεμο στην Ουκρανία. Οπλισμένοι με κορυφαία όπλα του ΝΑΤΟ, οι Ουκρανοί στρατιώτες αντιμετωπίζουν ενεργά την Ρωσία, για την οποία ο Σόρος φοβόταν ήδη ότι θα γινόταν ένα πατριωτικό έθνος αντίθετο στην παγκόσμια τάξη που προωθούσε το 1993. Οι ισχυρές δυτικές χώρες έχουν τα απαραίτητα όπλα και η Ουκρανία έχει το ανθρώπινο δυναμικό.
(…)
Όπως προέβλεψε ο Σόρος, η ουκρανική κοινωνία φαίνεται να ανέχεται τον υψηλό αριθμό νεκρών στην τρέχουσα σύγκρουσή της με την Ρωσία.
(…)
Η έλλειψη διαμαρτυρίας στην Ουκρανία μπορεί επίσης να βοηθηθεί από το γεγονός ότι η Ουκρανία έχει περιορίσει το μεγαλύτερο μέρος της κοινωνίας των πολιτών, έχει απαγορεύσει τα κόμματα της αντιπολίτευσης και τα αντίθετα μέσα ενημέρωσης , ενώ έχει θέσει εκτός νόμου την Ρωσική Ορθόδοξη Εκκλησία. Ένας άλλος βασικός παράγοντας είναι ότι ο πόλεμος διεξάγεται σε ουκρανικό έδαφος, κάτι που αποτελεί εξαιρετικά κίνητρο για τους Ουκρανούς στρατιώτες.
Στο ίδιο άρθρο, ο Σόρος κάλεσε για μια «νέα παγκόσμια τάξη». Ο όρος συχνά χλευάζεται στα κατεστημένα μέσα ως θεωρία συνωμοσίας, αλλά ο Σόρος τον χρησιμοποιεί ανοιχτά:
«Η μόνη βάση για δράση είναι η συλλογική ασφάλεια. Και εκεί βρίσκεται το πρόβλημα. Η κατάρρευση της σοβιετικής αυτοκρατορίας έχει δημιουργήσει ένα πρόβλημα συλλογικής ασφάλειας υψίστης σοβαρότητας. Χωρίς μια νέα παγκόσμια τάξη, θα υπάρξει αταξία. Αυτό είναι ξεκάθαρο. Αλλά ποιος θα ενεργήσει ως αστυνομικός του κόσμου; Αυτό είναι το ερώτημα που πρέπει να απαντηθεί», έγραψε ο Σόρος.
Ο Σόρος περιγράφει ορισμένες από τις θεωρίες του στο άρθρο, αναφερόμενος σε ανοιχτές και κλειστές κοινωνίες καθώς και στην «θεωρία της επαναστατικής αλλαγής», την οποία είπε ότι είχε εφαρμόσει επίσης στις χρηματοπιστωτικές αγορές. Ο δισεκατομμυριούχος περιγράφει πώς η διάλυση της Σοβιετικής Ένωσης παρουσίασε νέες παγκόσμιες προκλήσεις ασφάλειας αλλά και ευκαιρίες.
(…)
Ο Σόρος γράφει επίσης στο άρθρο του ότι το ΝΑΤΟ αγωνιζόταν να δώσει ένταξη σε χώρες της Κεντρικής και Ανατολικής Ευρώπης πριν «η Ρωσία ανακάμψει». Ο Σόρος φαίνεται να βλέπει το ΝΑΤΟ να παραβιάζει ενεργά τη Ρωσία κατά την διάρκεια μιας περιόδου που η χώρα ήταν ακόμα σε χάος μετά την πτώση του κομμουνισμού. (σ.σ. ΤΩΡΑ ΜΕ ΤΟΝ ΠΟΥΤΙΝ ΟΜΩΣ ΤΑ ΠΡΑΓΜΑΤΑ ΔΕΝ ΕΙΝΑΙ ΚΑΘΟΛΟΥ ΕΥΚΟΛΑ ΓΙΑ ΤΟΥΣ ΔΙΕΘΝΙΣΤΕΣ):
«Οι χώρες της Κεντρικής Ευρώπης φωνάζουν για πλήρη ένταξη στο ΝΑΤΟ το συντομότερο δυνατό, κατά προτίμηση πριν ανακάμψει η Ρωσία (σ.σ. ΔΕΝ ΤΟ ΚΑΤΑΦΕΡΑΝ). Η Ρωσία αντιτίθεται, όχι επειδή έχει σχέδια για την πρώην αυτοκρατορία της (σ.σ. ΑΥΤΑ ΕΙΠΩΘΗΚΑΝ ΤΟ 1993, ΤΩΡΑ Η ΡΩΣΙΑ ΕΧΕΙ ΣΧΕΔΙΑ), αλλά επειδή δεν βλέπει κανένα πλεονέκτημα στην συγκατάθεσή της. Η εθνική της υπερηφάνεια έχει πληγωθεί και είναι άρρωστη και κουρασμένη να κάνει παραχωρήσεις χωρίς αντίστοιχα οφέλη», έγραφε ο Σόρος.
el.gr