Πέντε Αστέρια, Λέγκα και Φόρτσα Ιτάλια, «τελείωσαν» τη νέα απόπειρα Μ.Ντράγκι για κυβέρνηση: Πήρε μόνο 95 ψήφους στις 321
Εκλογές 25 Σεπτεμβρίου και 2 Οκτωβρίου.
Καταιγιστικές είναι οι πολιτικές εξελίξεις στην Ιταλία, με την αβεβαιότητα να εντείνεται και το νήμα ζωής της κυβέρνησης Ντράγκι να κόβεται από το 2021 οπότε και είχε αναλάβει ως κοινής συναίνεσης τεχνοκράτης αλλά να βαρύνεται με την σκληρή εφαρμογή των lockdwon και της επιβολής των κυρώσεων στην Ρωσία που εκτόξευσαν την ακρίβεια.
Στην ψηφοφορία ο Μάριο Ντράγκι έλαβε μόλις 95 ψήφους υπέρ και 38 κατά, σε σύνολο 321, καθώς η Φόρτσα Ιτάλια, η Λέγκα και τα Πέντε Αστέρια απείχαν από τη διαδικασία.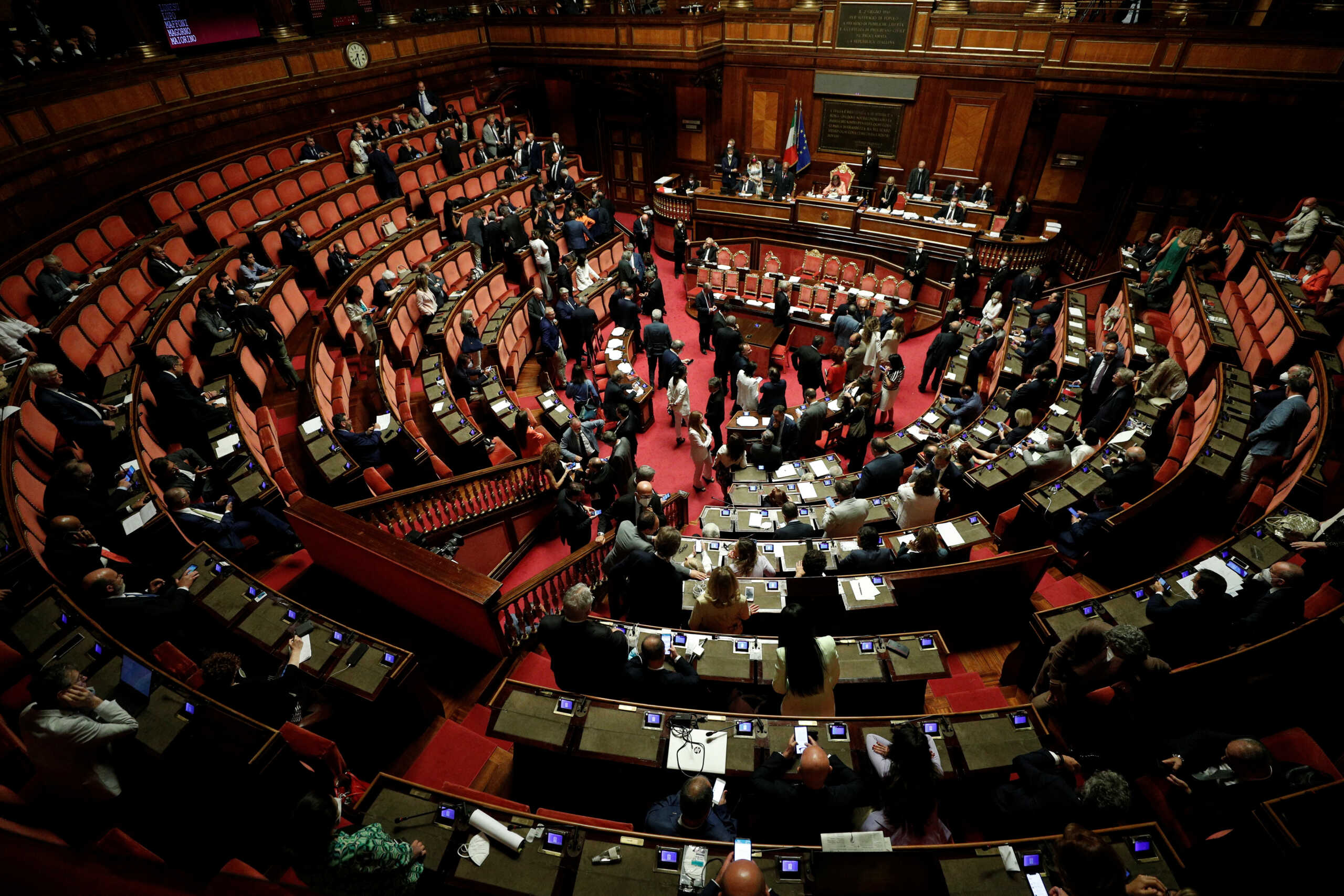 Σύμφωνα με τα ιταλικά ΜΜΕ, οι επικρατέστερες ημερομηνίες είναι 25 Σεπτεμβρίου και 2 Οκτωβρίου.
O Ιταλός πρωθυπουργός Μάριο Ντράγκι, κατά την δευτερολογία του, στη Γερουσία ήταν σύντομος και εμφανώς εκνευρισμένος. Πιο αναλυτικά, ο Μάριο Ντράγκι τόνισε: «Ευχαριστώ όσους στήριξαν την κυβέρνησή μας. Η δημοκρατία μας είναι κοινοβουλευτική, την σέβομαι και την αναγνωρίζω, δεν ζήτησα πλήρεις εξουσίες, ζήτησα τη στήριξη του κοινοβουλίου.
Είπα ότι ξεκινήσαμε διάλογο για τον κατώτατο μισθό και θα τον συνεχίσουμε με συνδικάτα και επιχειρηματίες.
Όσο για το επίδομα ανεργίας, θεωρώ ότι είναι κάτι το θετικό, αλλά όταν δεν λειτουργεί αποδοτικά, είναι αρνητικό.
Ζητώ να δοθεί ψήφος εμπιστοσύνης, βάσει της πρότασης του γερουσιαστή Πιερφερντινάντο Καζίνι, η οποία προβλέπει την απρόσκοπτη συνέχιση του κυβερνητικού έργου».
Η Ευρώπη βρίσκεται σε πολιτική περιδίνηση καθώς η η οικονομική κρίση μετατρέπεται με γοργούς ρυθμούς σε οικονομική καταστροφή και οι κυβερνήσεις η μία μετά την άλλη παραιτούνται (Ιταλία, Βρετανία) ή στέκονται «στον αέρα» (Γαλλία, Βουλγαρία, Εσθονία κλπ.)
Οι τελευταίες εξελίξεις δείχνουν ότι ο Ιταλός πρωθυπουργός θα επιβεβαιώσει στο προεδρικό μέγαρο, το Κυρινάλιο την παραίτησή του.
Τα τελευταία δεδομένα καταγράφονται ενώ η Ιταλία βρίσκεται στη δίνη του πληθωρισμού καθώς πλήττεται από κύμα ακρίβειας, αλλά το πρόβλημα δεν είναι μόνο αυτό: Μέχρι το τέλος της χρονιάς θα πρέπει να πληρώσει 250 δισ. ευρώ σε χρέη.
Σήμερα, τα 3/4 των Γερουσιαστών δεν εμφανίστηκαν και στην ψήφο εμπιστοσύνης και ο Ντράγκι δεν περίμενε καν για το αποτέλεσμα αλλά απλά επιβιβάστηκε στο αυτοκίνητο και έφυγε.
Draghi asks parliament for confidence but 3/4 of the senators leave the classroom or do not vote. He then leaves the room himself without waiting for the outcome of the vote. It's over 🍾🥂! pic.twitter.com/TXuRMvzlje

— RadioGenova (@RadioGenova) July 20, 2022
Έντονη ανησυχία επικρατεί στους κύκλους των Βρυξελλών κάτι που αποτυπώνεται στα πρωτοσέλιδα των ευρωπαϊκών μέσων ενημέρωσης.
Η απόφασή του αυτή, όπως μεταδίδουν τα ιταλικά μέσα ενημέρωσης, οφείλεται στο γεγονός ότι τα Πέντε Αστέρια, αλλά και η δεξιά (Φόρτσα Ιτάλια και Λέγκα) δεν θα πάρουν μέρος στην διαδικασία της ψήφου εμπιστοσύνης, η οποία μόλις ξεκίνησε στη Γερουσία της Ρώμης.
Αυτό σημαίνει ότι μπορεί να μην εξασφαλιστεί ούτε ο κατώτατος απαιτούμενος αριθμός (50% των γερουσιαστών συν ένας) για να μπορέσει, η ψηφοφορία αυτή, να θεωρηθεί έγκυρη.
Ο Ιταλός τεχνοκράτης πρωθυπουργός θα θεωρήσει, όπως φαίνεται, την εξέλιξη αυτή ως έλλειψη εμπιστοσύνης και σεβασμού στο πρόσωπό του και αναμένεται να μεταβεί στο προεδρικό μέγαρο για να οριστικοποιήσει την παραίτησή του, με νέα συνάντησή του με τον πρόεδρο Ματαρέλα.
«Ζητώ να δοθεί ψήφος εμπιστοσύνης» δήλωσε νωρίτερα στη Γερουσία της Ρώμης ο Ιταλός πρωθυπουργός, Μάριο Ντράγκι.
«Η δημοκρατία μας είναι κοινοβουλευτική, την σέβομαι και την αναγνωρίζω, δεν ζήτησα πλήρεις εξουσίες, ζήτησα τη στήριξη του κοινοβουλίου» δήλωσε ο Ντράγκι χωρίς να ανακοινώνει την παραίτησή του αλλά να αφήνει ακόμη το παράθυρο ανοιχτό για παραμονή στην εξουσία.
Άλλωστε, ο πρόεδρος, Σέρτζιο Ματαρέλα, είχε προσπαθήσει να μεταπείσει τον Ντράγκι να μην αποχωρήσει καθώς η Ιταλία αντιμετωπίζει το μεγάλο κύμα ακρίβειας που πλήττει όλη την Ευρώπη.
Σύντομος και εμφανώς εκνευρισμένος ήταν ο Ιταλός πρωθυπουργός Μάριο Ντράγκι, κατά την δευτερολογία του, πριν λίγο στη Γερουσία της Ρώμης.
Πιο αναλυτικά, ο Μάριο Ντράγκι τόνισε:
«Ευχαριστώ όσους στήριξαν την κυβέρνησή μας. Η δημοκρατία μας είναι κοινοβουλευτική, την σέβομαι και την αναγνωρίζω, δεν ζήτησα πλήρεις εξουσίες, ζήτησα τη στήριξη του κοινοβουλίου. Είπα ότι ξεκινήσαμε διάλογο για τον κατώτατο μισθό και θα τον συνεχίσουμε με συνδικάτα και επιχειρηματίες. Όσο για το επίδομα ανεργίας, θεωρώ ότι είναι κάτι το θετικό, αλλά όταν δεν λειτουργεί αποδοτικά, είναι αρνητικό. Ζητώ να δοθεί ψήφος εμπιστοσύνης, βάσει της πρότασης του γερουσιαστή Πιερφερντινάντο Καζίνι, η οποία προβλέπει την απρόσκοπτη συνέχιση του κυβερνητικού έργου».
Ο Ιταλός τεχνοκράτης πρωθυπουργός απέρριψε, με τον τρόπο αυτό, το αίτημα της δεξιάς (Λέγκα και Φόρτσα Ιτάλια) για επαναδιαπραγμάτευση του κυβερνητικού προγράμματος και αλλαγή μέρους των υπουργών.